Manifesto for Free Work
The Dance Platform Germany emerged in the 1990s as a forum for the productions of freelance choreographers. Like the dance scene, the understanding of freelance artistic work has changed radically in the last twenty years. What does it mean to be artistically freelance? What do current practices look like? And how do the possibilities for "independent" work differ from those offered by existing institutional contexts? With these questions in mind, ID Frankfurt invited people to take part in a public think tank and develop a "manifesto for independent work" as part of the Dance Platform. The joint work has resulted in two publications: "Dictionary for invisible work" and "Speculative Glossary".
A contribution by ID_Frankfurt with Fanti Baum, Hannah Dewor, Olivia Ebert, Kathrin Felzmann, Eleonora Herder, Marialena Marouda, Norbert Pape, Kristina Veit, Kathleen Witt, Susanne Zaun and other guests.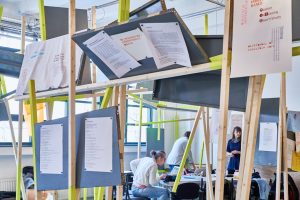 © Jörg Baumann