!!!OUR OPEN CALL IS NOW EXTENDED UNTIL DECEMBER 8th, 2023!!!!
find here all the details or ask us on implantieren@idfrankfurt.com
!!!OUR OPEN CALL IS NOW EXTENDED UNTIL DECEMBER 8th, 2023!!!!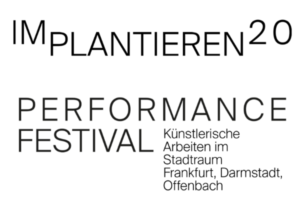 The performance festival IMPLANTIEREN2020 by ID_Frankfurt e. V. invites you to an encounter with artistic works of the independent scene in urban space for three weekends in Frankfurt, Darmstadt and Offenbach from 20 August to 6 September 2020.
For years, the independent scene in Frankfurt and the region has had a remarkable density and competence in the fields of performance, dance and theatre, which IMPLANTIEREN2020 now bundles, networks and presents in urban space for the fourth time. As a production platform, the festival opens up new perspectives for regional artists beyond the established institutions.
In addition to nine artistic works, most of which were produced especially for the festival, discursive formats and a mediation programme are also being developed for the coming festival edition. These will also focus on this year's emphasis on public and communal space. For the first time, IMPLANTIEREN2020 will also provide two research residencies for artists, inviting them to further develop their site-specific projects within the framework of the festival.
At the same time, the festival wants to be a place for real encounters to enable spaces of coming together and exchange, especially in the current situation. Because at the moment it seems more necessary than ever to think about being together in public space: What spaces can be used communally and how, what forms can togetherness take spatially? Through the appropriation and co-creation of public space with the help of artistic strategies, a focus is to be placed on the concept of the commons, understood here as a practice from the I to the We, which attempts to rethink social living and working together.
This becomes particularly visible in the festival centres, which are created in close cooperation with local initiatives. With them, IMPLANTIEREN2020 will occupy three completely different locations in the three festival cities. On the weekends in August and September 2020, the Weckmarkt at the Werkbund Forum in Frankfurt (20.-23.08.2020), the Osthang in Darmstadt (28.-30.08.2020) and Offenbach Central Station (04.-06.09.2020) will be marked as festival centres. Set up as places where different forms of gathering are possible, they show how public space can be used together. The starting point is the three locations in all their diversity. The main station in Offenbach, for example, is an infrastructure in the middle of the city that has hardly been used for several years and will be transformed into a place with diverse forms of use within the framework of the festival together with the initiative Hauptbahnhof OF. In Darmstadt, the festival centre will be hosted at the Osthang, a self-managed cultural centre where practical examples are already being given of what the joint design of spaces can look like. In Frankfurt, it will stop at the Weckmarkt in front of the rooms of the Werkbund, which for over 150 years has made it its task to shape society together and to think ahead. The festival centre is located not far from the northern bank of the Main, a section of the street that is currently only temporarily closed to car traffic, inviting people to try out other possible forms of use and to design public space collectively.
In this way, IMPLANTIEREN2020, in cooperation with numerous institutions and initiatives of artists, scientists, activists and residents in the three cities, is testing various forms of artistic appropriation and design of space.
Participating artists: Philip Albus & Ana Berkenhoff, Yoga Church of Evil, Frida Laux, PARA, ScriptedReality, Ülkü Süngün, Hannah Schassner & Mirrianne Mahn (theatreperipherie), zaungäste, 431art – Haike Rausch & Torsten Grosch
IMPLANTIEREN is a biennial performance festival by ID_Frankfurt e. V. (Independent Dance and Performance). Since 2019, IMPLANTIEREN is part of "Festivalfriends" an association of regional festivals of the independent performing arts, consisting of Performing Arts Festival (Berlin), 6 tage frei (Stuttgart, Baden-Württemberg), Hauptsache Frei (Hamburg), RODEO (Munich) and FAVORITEN (Dortmund, North-Rhine Westphalia).
The events are mostly free of charge
Tickets and more information can be found on the website: www.implantieren-festival.de