Implantieren 2016: site specific performance festival
IMPLANTIEREN 2016 is closed. ID_Frankfurt thanks all artists*, cooperation partners*, supporters* and spectators* for enabling and accompanying our nomadic festival – at the Yachtklub, at the Institute for Urban History, at the racecourse in Niederrad, at the Tanzhaus West, at our headquarters "Z" – the rehearsal center of ID_Frankfurt and at all places within Frankfurt where the book performance "Where are you standing?"
What happens when the echo of a yodel no longer resounds between mountain and valley, but reverberates against the skyline? What if techno-rave and Renaissance music morph into a dance in a nightclub? To what places in Frankfurt does a book that is a performance that is a city guide lead?
ID_Frankfurt is testing it out, transplanting six interdisciplinary dance and performance projects into Frankfurt's urban space with the nomadic festival IMPLANTIEREN. From September to December 2016, the participating artists* invite visitors to new productions in the Frankfurt City Archive, in a nightclub, on a boat on the Main, on the racing track, to a walk with a book and in a dance studio. In this way, IMPLANTIEREN deliberately operates outside of hierarchical stage spaces and devotes itself to performative strategies that open up unfamiliar perspectives on its supposedly familiar surroundings for the participating audience. In dialogue with the site-specific conditions, audience members and performers become accomplices who together open up new spaces of action and perception.
All information about the individual projects is available here. For those who prefer it compact, there is the leporello for download.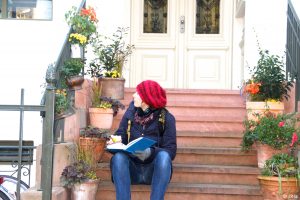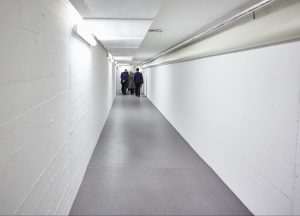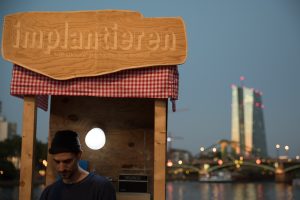 Info and Contact
News on this website and on Facebook
facebook.com/id_frankfurt-independent-dance
Sign up for the ID_Frankfurt newsletter
Contact: implantieren@idfrankfurt.com
Press inquiries: presse@idfrankfurt.com
Implanting 2016 is an event of ID_Frankfurt e.V.
Leadership: Fanti Baum and Olivia Ebert
Organization, communication: Fanti Baum, Olivia Ebert, Eleonora Herder, Hanna Knell, Susanne Zaun
Implant 2016 was made possible by:

We thank our cooperation partners: