Since June 2020, the ID_Frankfurt board team has consisted of the following people:
Jacob Bussmann
Hannah Dewor
Frédéric de Carlo
Gregor Glogowski
Mareike Uhl
Board of Directors:
Amelia Uzategui Bonilla
Sofie Luckhardt
Fabrice Mazliah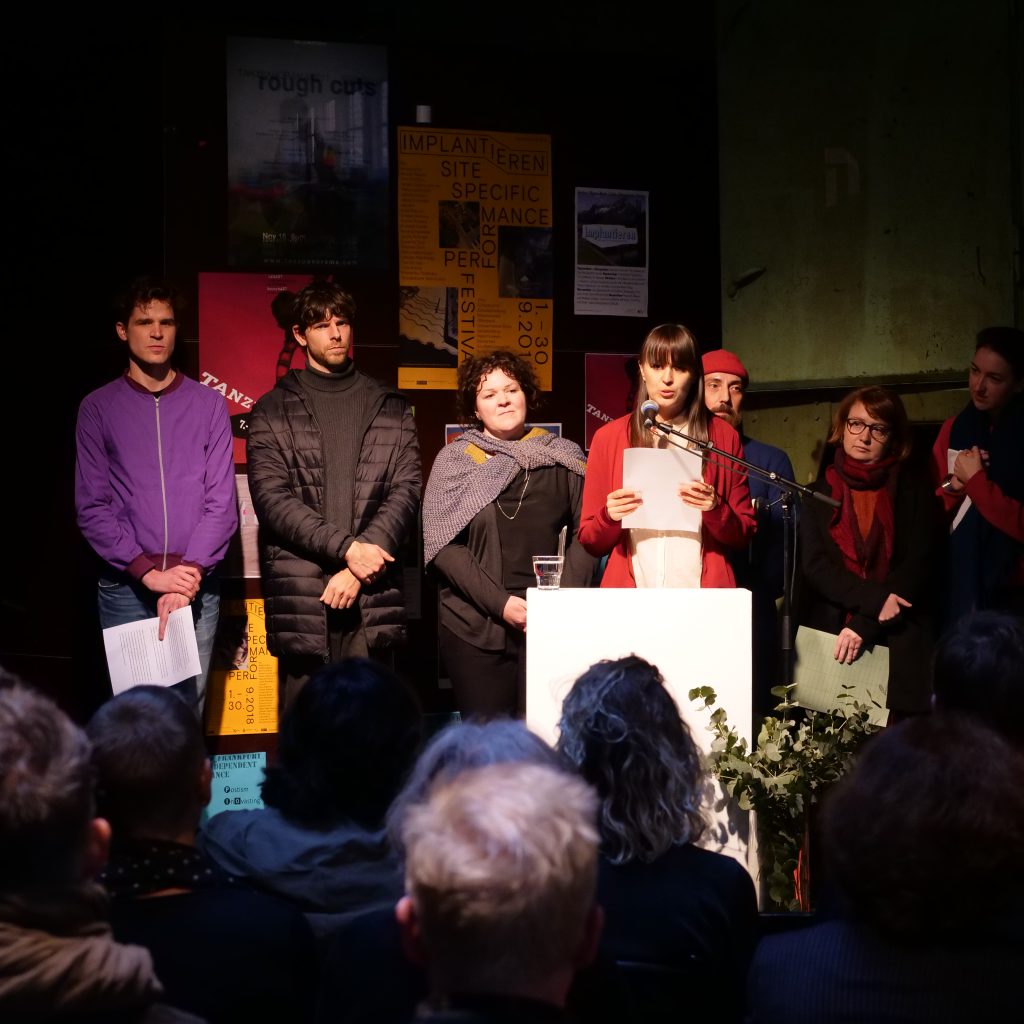 Biographies
Jacob Bussmann works as a freelance pianist, performer, dramaturge and musical director.
He received his musical training at the University of Music and Performing Arts Frankfurt/Main and the Sibelius Academy Helsinki and studied Applied Theatre Studies in Giessen. He works on theatrical, performative and/or musical projects in various constellations: Together with Rahel Kesselring he created  "The Living Theatrograph", as part of the collective ScriptedReality  "Macchia", "Unser Arm gegen Uns!", "Wie wir es wollen" and "Residence Evil". As a performer and musician, Jacob Bussmann has been involved in productions such as the third-party production "Die Maßnahme", redpark's "Saponifikation" and Jan Philipp Stange/Nir Schauloff's "All in All". He has arranged song recitals for municipal theatres in Heidelberg, Karlsruhe, Marburg and Dresden, composes stage music and works as a musical director. Bussmann has been a board member of ID_Frankfurt e.V. since February 2018.
Hannah Dewor works as a dancer, performer, choreographer and dance facilitator.
She studied Modern and Contemporary Stage Dance in Cologne and Amsterdam and completed her Master's degree in Contemporary Dance Education at the Frankfurt University of Music and Performing Arts in 2012.
As a dancer, she has performed in dance and performance projects with Richard Siegal/The Bakery, with Yves Thuwis de Leeuw/Nevski Prospekt, among others. Since 2013 she has been realising her own dance and performance projects and since 2016 has been developing works in the field of interdisciplinary choreography with Wiebke Dröge as the duo deWOR DRöGE: "HYPNOS" (Festival for Light Art and Performance and Summer of Art). At the Luminale 2018, the duo transformed the Nebbiensche Gartenhaus in Frankfurt into DENKSTÄTTE with an interactive light installation of the same name. Their choreographic work is also located in the field of inclusive dance productions. Since 2014, she has been developing dance productions in co-direction with Jungyeon Kim and the ensemble Barefeet, consisting of young people with mental handicaps. In 2015, together with other alumni of the M.A. Contemporary Dance Education, she created DAS PLATEAU, a flexible event format for contemporary dance and mediation. Dewor has been an associate member of ID_Frankfurt e.V. since February 2018 and a board member since November 2018.